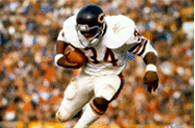 "Sweetness" Walter Payton
FOOTBALL BETTING TIPS

Hi folks, Bob Akmens here. Thanks for visiting our website BASports.com to see what Bob Akmens Sports is all about.

Let's talk a little bit about some of the challenges you may face handicapping football......
Or, watch this on video:
Or, listen to this intro:
SIGN UP FOR MY PRIVATE OFFERS!