Betting the Oscars, Remember the Politics
Commentary by Joe Saumarez-Smith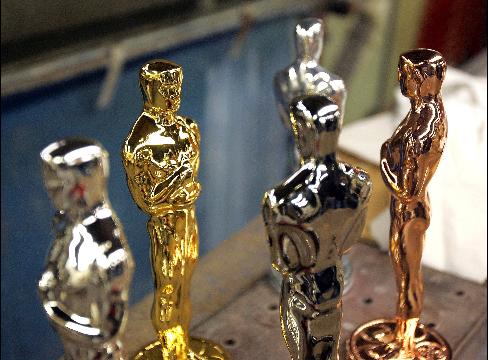 (Bloomberg) -- For most people the Academy Awards are about fancy dresses, weepy actresses and mind-numbingly long speeches. But don't forget that the Oscars are also one of the best betting events of the year.
That's because bookmakers aren't very good at setting the odds on the Academy Awards. For whatever reason, they find it difficult to work out the politics of the film industry. No one should be in any doubt that the Oscars are all about politics.
It helps to have some insider knowledge of the industry. I consult someone who was recently nominated for an Oscar and is a voting member of the Academy of Motion Picture Arts and Sciences. The Gold Derby blog and Buzzmeter sections of the Los Angeles Times's Web site are invaluable for research. The Screen Actors Guild awards are also vital for plotting voting patterns as the membership overlap with the Academy is considerable.
In consultation with my sources, I've put together some golden rules for successful Oscars betting:
1. Don't bet on an old film.
In theory, any film released between Jan. 1 and Dec. 31 is eligible. In practice, if you release the film prior to September it is almost impossible to win. Academy voters have a short attention span and any studio that really wants to win a major award will release the film late in the year.
2. Be wary of recent winners.
There are plenty of people who have won multiple Oscars, but they tend not to win back-to-back awards. Everyone likes to see a bit of variety and the voters will only name a repeat winner who turned in an exceptional performance in a weak year. Thus, Cate Blanchett almost certainly cannot win Best Actress this year and is unlikely to win Best Supporting Actress, even though she is the 6-4 favorite for the latter.
It's also important to realize that the voters don't want to let one film dominate all categories. If they are going to vote for one movie as Best Picture and for Best Actor, you need to assess whether they will cast their votes elsewhere in the minor categories.
3. Don't forget the Hollywood darlings.
Los Angeles denizens like to vote for their favorites and there is a constant stream of ``surprise' winners who are well- connected Hollywood movers. Tony Gilroy, who wrote and directed ``Michael Clayton,' could be the most likely beneficiary of this phenomenon when he comes up against hot favorite Diablo Cody for ``Juno' in the Best Original Screenplay category. At 5-2, Gilroy looks like a cracking value for an upset.
4. Keep an eye on the politics.
In 2002 both Halle Berry (nominated for Best Actress) and Denzel Washington (Best Actor) were outsiders for their awards when the betting opened. But then campaigners started to point out how few black people had ever been nominated for an Oscar and how few went on to win. This was a fantastic opportunity for bettors, and I had a big win when they both picked up their Oscars, much to the surprise of the bookies and outside pundits.
5. It's all about the money.
In the end, the Oscars are about awarding those working in the film industry for a job well done. And that means making lots of money. A critically acclaimed film that was a financial turkey will find it hard to win. However, a movie that did not have critics in raptures but reaped tens of millions on its opening weekend can end up a big winner.
So, who should your money be on this year? Daniel Day-Lewis (``There Will Be Blood') for Best Actor is probably money in the bank. The odds are just 1-8 (bet $8 to make a $1 profit), but according to my sources, the only way he can't win is if he drops dead before the Feb. 24 awards ceremony.
At bigger odds, there is value on Amy Ryan (``Gone Baby Gone') for Best Supporting Actress at 9-4 (bet $4 to make $9), with the caveat that Ruby Dee (``American Gangster') at 4-1 is a serious threat. ``Pirates of the Caribbean: At World's End' is a 9-4 chance for the Makeup Oscar and is great value to beat the hot favorite, ``La Vie en Rose.
I will also bet on Paul Thomas Anderson (``There Will Be Blood') at 9-2 to win Best Director and upset Joel and Ethan Coen (``No Country for Old Men'), who are on offer at a best price of 3-10. It looks to be a contest between these two nominations, and the second favorite has plenty of appeal.
My final bet is on Best Adapted Screenplay, where ``The Diving Bell and the Butterfly' is a 5-1 outsider. With ``No Country for Old Men,' the 1-2 favorite, likely to take Best Film and several other top honors, this looks like an award where the voters might look further down their list.
The second favorite is ``There Will Be Blood' at 5-2, but my screenplay expert tells me it simply doesn't have enough writing and can't win. So that leaves ``Atonement' and ``Diving Bell,' with the latter much preferred, as writer Ronald Harwood is loved by Hollywood.
(Joe Saumarez-Smith is chief executive officer of Sports Gaming, a U.K. management consulting firm to the gaming industry. He also owns European online bingo companies and odds comparison Web sites. The opinions expressed are his own.)
Source: Joe Saumarez-Smith, Bloomberg News